Signature Bonus with all packages: Strawberries dipped in Chocolate & Floral Bath Drawn.
---
The Rockwater Secret Cove Resort

The Rockwater Honeymoon Package [view PDF]
The Rockwater Elopement Package [view PDF]
The Rockwater Luxury Elopement Package [view PDF]
---
You don't have to go far, take a weekend excursion to Vancouver Island
Wickaninnish Inn, Osprey Lane at Chestnut Beach, Toffino, B.C.
Experience a West Coast Spa / Resort
46 spacious guest rooms offering magnificent view/fireplaces, balconies
Enjoy the ancient cedar Spa
Dine in the famous Pointe Restaurant and On-The-Rocks Bar while you sample the innovative creations of Chef de Cuisine, Rodney Butters
Say "I Do" the West Coast Way
View PDF
---
Award Winning…Sooke Harbour House
Try the "Gastronamical Adventure"
"Simply the Best in Dinning"
Call for your preferred rates.
These are just a few favorite hideaways. I have a few more places you may not have thought of !
Offering more than a destination, helping you create an experience of a lifetime!
You may have a dream place that you've been thinking of, Tell me about it and I will help make your dreams come true!
---
My Island Haven at Sooke Harbour House
By Marsha Steeves
Just 45 minutes from Victoria, at the southwest tip of Vancouver Island, lay an intimate cozy hideaway called "Sooke Harbour House". A picturesque "Country Inn", surrounded by gardens of herbs and colourful blossoms. You will feel like you have just come home.
You may be greeted by Fredrica and Sinclair Philip, then escorted to your choice of 28 themed guest rooms. Delightfully designed, and decorated with local west coast art. My favorite is # 14 – "The Victor Newman Longhouse Room". A central , see-through wood-burning fireplace surrounded by native carvings and masks, rests beside a tub for two with a view! Being a native art fan, I was in my glory! No sound to be heard but the waves slapping up on the beach. No television, just simple, natural pleasures to enjoy. Your room stocked instead with an array of interesting books to read, one of which I picked up " Top Ten Restaurants of Canada", little did I know "Sooke Harbour House" was in there! Also for enjoyment, a fine classical collection of CD's available at the front desk. I began to find it difficult to leave my room!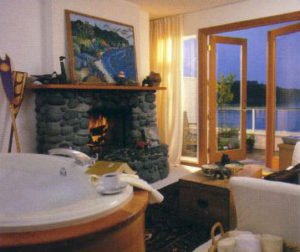 Being a Travel Agent, with a bit of a jet-set lifestyle, I always thought I had to fly across the waters to "escape". I didn't know I could find such a treasure so close to home.
The first night I was invited to dinner in their renown Dining Room. A fire burning and a complete backdrop of the sea, no distractions but the dining experience that was about to begin. I decided to be adventurous and indulge in the "Gastronomical Adventure"! A 7 course tasting menu, paired with the finest of local wines. My waiter, Brian was so helpful as he offered a great introduction to each entrée and glass of wine.
My "paired" Tasting Menu
The menu began with a sea urchin fritter garnished with an apple cicely salad complimented with a Brut Rose. It was now time to enjoy , a free range suckling kid tartare with pickled fushia berries, complimented by a 1997 Gewurztraminer. Such a tapestry of tastes! Next, octopus Corn Bread soon followed with wild sorrel and chickweed salad, complimented by a 1994 Pinot Noir. The next creation. a white onion stuffed with chanterelle, complimented by 1998 Meritage. Next a halibut and red rock crab steamed napoleon with a gention sage, complimented by a 1998 Chardonnay. Next, David Wood's montana cheese stuffed, baked tomato over a slice of delicata squash. The grand finale was the desert, roasted quince with apple brandy ice cream. The final toast being a 1998 Pinot Blanc ice wine!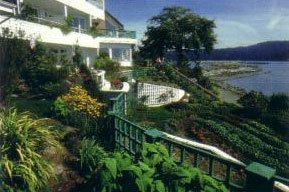 The wine cellar included a collection of over 1000 Canadian wines, mostly local hand picked to compliment the available menu items. Each dish was a true masterpiece and was garnished with fresh herbs or edible flowers that were picked fresh from the garden. After this dining experience that lasted almost 3 hours, I came to the conclusion that I had experienced the very best in dining!
Garden of Eden
The next morning, I awoke and stepped out on my private balcony to beds of flowers, tearing down the slopes towards the shore. The scent of lavender in the air was a welcoming aroma. I took the option to have breakfast in my room. The staff treated me like I was a very special guest in their home. There was not a lot of decision making on "what to do", something I quite relished, so I chose to take a stroll down the pebble beach to explore for driftwood. Later, I enjoyed a complimentary picnic lunch prepared for me, sitting on a bench overlooking the sea. In the midst of a wonder of lush gardens of flora and herbs, I felt like I was swept away to my very own Garden of Eden, a place to partake for a short time enjoying life's finest pleasures!
For information on Sooke Harbour House visit:
www.sookeharbourhouse.com